10 December 2013
CERPRIZE Awards Ceremony in Luxembourg 2013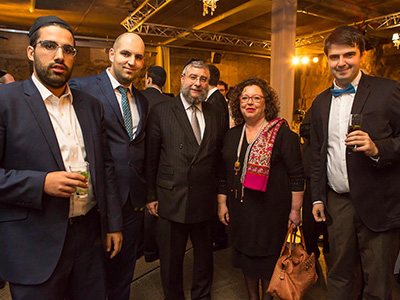 The Conference of European Rabbis which unites the Jewish religious leaders of Europe, has presented its first ever Internet Entrepreneurs' Prize. The prize giving ceremony is now an annual event and offers a cash prize to reward Europe's best digital entrepreneurs. This is the first time that a Rabbinical organization has offered a reward for technological innovation on the premise that it is important to create a platform of dialogue between the cutting edge digital world and Jewish traditional values.
Prizes are aimed at budding entrepreneurs
The event offers the chance to win the first prize of 26,000 Euros or one of two runners up prizes of 18,000 Euros and is particularly aimed at budding entrepreneurs who have an App, website or digital enterprise that supports global harmony or improves the lives of others.
With the HRH Grand Duke Hereditary of Luxembourg, Princess Stephanie and the Vice Prime Minister Mr. Etienne Schneider
The Judging panel, which selected the winner from a shortlist of six finalists includes Yossi Vardi, the "father" of the cialis generique High Tech industries in Israel, and Anton Nossik, a famous internet personality from Russia. The presentation was made at a gala dinner held in Luxembourg in the Chateau de 7 Fontaines, in the presence of His Royal Highness the Hereditary Grand Duke of Luxembourg, , the Vice Prime Minister and Minister of the Economy Mr. Etienne Schneider, leading businessmen, parliamentarians, local dignitaries and members of the Conference of European Rabbis.
Embrace traditional values
Chief Rabbi Pinchas Goldschmidt, President of the Conference of European Rabbis, said, "In this age of mass media, it is more important than ever that cutting edge technology embraces traditional values and yet this is an area which has been largely overlooked by faith communities. This is the start of what we hope will be a sustained and positive dialogue with the ever developing world of digital media."
First place winners Baranov and Aisenshtat explained that "more than one million people are being connected by us to help save lives, we are thankful for this recognition."