10 September 2019
Seminar for European Rabbis focuses on the on community work and aiding victims of abuse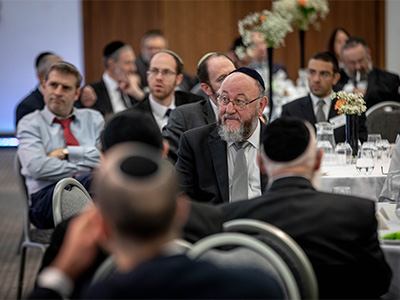 Conference of European Rabbis stages seminar for young rabbis on how to improve community work.
Almost fifty Rabbis across Europe attendee "the Conference of European Rabbis" Young Rabbis Seminar at Finchley United Synagogue.
The session focused on issues affecting communities across Europe.
Topics included Jewish identity and strategies for supporting victims of abuse within the Jewish Community.
Rabbi Moshe Lebel, the organisation's rabbinical director, opened the seminar included rabbinical talent across the continent. Gady Gronich, CER executive director, hailed the seminar a success.
"It is a key priority to provide the next generation of rabbinical leaders with the right guidance and advice on matters that affect Jewish communities across Europe", he said. "More then ever before, we must ensure that our communities are properly supported and seminars like this help to ensure that our rabbis are duly equipped".
For the first time, the seminar was scheduled to follow the annual rabbinic conference hosted by Chief Rabbi Ephraim Mirvis in the capital.
Participants joined the UK based colleagues for lectures including sessions from Soviet "Refusenik" Rabbi Yosef Mendelevich and Rabbi Dr. JJ Schacter of Yeshiva University.
Rabbi Reuven Leuchter and Rabbi Shabtai Rappaport shared insights into a united Jewish identity and community cohesion. And leading Israeli organisation Haruv, who specialise in helping children suffering from abuse and neglect, offered methods to support those affected by abuse.