24 October 2019
Europas RabbinConference of European Rabbis (CER) awarded Prof. Andrea Riccardi with the Moshe Rosen Prize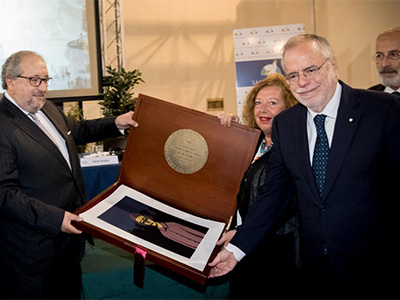 Italian professor and religious activist wins Conference of European Rabbis award
(Rome, Italy – 25th October): The Conference of European Rabbis (CER) last night awarded one of its highest awards to Italian professor, politician and activist Andrea Riccardi at a ceremony held in Rome, Italy. The Rabbi Moshe Rosen Prize honours his outstanding example of civic involvement for a tolerant Europe and unceasing solidarity with the Jewish community.
For many years, Professor Riccardi has been a pioneer in strengthening interfaith relations and dialogue between the Catholic and Jewish communities of Europe through his work as the founder of the Sant'Egidio community – a lay Catholic association founded in 1968, following the second Vatican Council.
Since its inception, the Sant'Egidio community has become active in more than 70 countries around the world and currently numbers some 50,000 members. It is committed to friendship, respect and collaboration amongst people of different religions and cultures. In Rome and many other European cities, the community works with Jewish groups in hosting annual commemorations of and memorials for the victims of the Holocaust.
Amongst the highly esteemed guests were Chief Rabbi Riccardo Di Segni, Chief Rabbi of Rome, Chief Rabbi David Rosen, director of the American Jewish Committee's Department of Interreligious Affairs and Dr Boris Mints, chairman of the CER Board of Patrons.
Chief Rabbi Pinchas Goldschmidt, president of the Conference of European Rabbis, praised Sant'Egidio as a community that assumes responsibility 'not only for itself, but also for others'. He emphasised that 'everything that has been built up since 1945 in terms of rules for a peaceful world order is currently collapsing before our eyes. Religions must now increasingly assume responsibility.'
Goldschmidt added: 'Professor Riccardi has shown tremendous dedication to the promotion of interfaith relations and protection of religious freedom for all and we are pleased to be able to recognise his contribution. His desire to unite religious communities is nothing short of astounding and something for which the Conference of European Rabbis wanted to show its immense gratitude.'
In his acceptance speech, Professor Andrea Riccardi demanded a new 'pact of brotherhood of Christians and Jews in Europe'. He went on to say that antisemitism is 'the first chapter of the book of horrors and hatred, which we believed to be closed forever in the bookcase. In an irresponsible way, too many people have opened the pages of this book again'.
Chief Rabbi Moshe Rosen, after whom the prize is named, served as the Chief Rabbi of Romania for many years and safeguarded his community through great self-sacrifice during years of communist rule.