8 March 2018
Dayan Chanoch Ehrentreu, Head of the European Beth Din, receives Order of Merit of the Federal Republic of Germany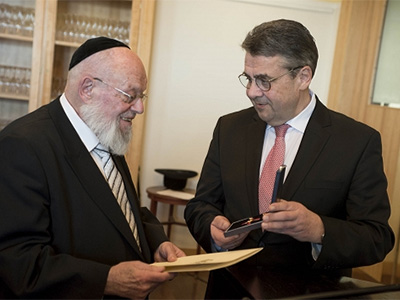 In a moving ceremony, Dayan Chanoch Ehrentreu, Head of the European Beth Din was awarded Germany's only federal decoration, the Federal Cross of Merit. The award recognises the crucial role that Dayan Ehrentreu has played in rebuilding traditional Jewish life in Germany in his role as Director of the Berlin Rabbinical Seminary.
The award was presented to Dayan Ehrentreu in a formal ceremony in the Foreign Office in Berlin last week. Rabbi Josh Spinner, Executive Vice- President and CEO of the Ronald S. Lauder Foundation, addressed the audience, followed by Dr Josef Schuster, President of the Central Council of Jews in Germany. Sigmar Gabriel, Minister for Foreign Affairs presented Dayan Ehrentreu the award.
Reflecting on his receipt of the Order of Merit, Dayan Ehrentreu addressed the audience: "Torah Judaism is deep rooted in Germany. More than 1,000 years ago great Torah scholars lived in Germany, scholars whose teachings we still learn today. These rabbinical scholars and leaders came from all over Germany, Ladenburg, Mainz, Worms, Speyer, Hamburg, Saltsburg, and this tradition of Torah Judaism which existed in Germany for over a thousand years has now returned back once again.
"Therefore, I salute with admiration the Federal Republic of Germany, who by presenting this Order of Merit have expressed their recognition of the outstanding achievements of this new community and its institutions, and at the same time, recognise that it is a contribution to Germany itself. My involvement in this whole project is small, compared to the selfless efforts of all those who gave their heart and soul to bringing success to this project. I therefore, with feelings of honour and feelings of humility, accept this order of merit, but I do not only for myself, but I do so also as their representative."
Rabbi Pinchas Goldschmidt, President of the Conference of European Rabbis, said: "I want to extend my congratulations to Dayan Chanoch Ehrentreu for this tremendous award. Dayan Ehrentreu assumed leadership of the Beth Din of the Conference of European Rabbis in 2008 and his contribution to the Germany Jewish community, and indeed European Jewry in general, is outstanding. It is a great honour that he is a recipient of this Order of Merit and I wish him well for his continued service."
The Order of Merit of the Federal Republic of Germany, created by the first President of the Federal Republic of Germany, Theodor Huss, on 7th September 1951, is the only federal decoration of Germany. It has been awarded to over 200,000 individuals, including both German citizens and internationals.