27 June 2018
CER Proposed Agunot relief law passed by the Knesset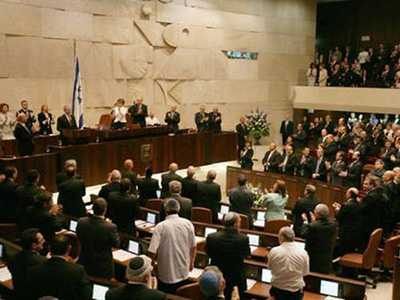 Husbands who refuse their wives a divorce will be detained if they try to enter the country
Arrivals at Ben Gurion Airport: Men who refuse women a get will be detained if they try to enter Israel
Men who are known to have refused their estranged wives a religious divorce will be barred from entering Israel under new legislation.
Husbands who do not grant their wives a get will now be detained upon attempting to enter the country, following a recommendation from the Conference of European Rabbis (CER).
The bill, which has passed through various stages of the political process over several months, was approved by the Knesset on Monday night by 42 votes to 24, with two abstentions.
The CER advised an amendment to Israeli divorce law, with the hope of alleviating the plight of agunot, or "chained" women, who are not allowed to remarry and cannot progress with their lives.
The new law states that a man who has been identified by a Diaspora Rabbinical court to be a recalcitrant husband may be detained upon entrance to Israel.
Jewish divorce law allows a husband to delay divorce proceedings by withholding their wife's get. While Israeli Rabbinical courts have the strength to apply various sanctions, including lengthy jail sentences, Diaspora Rabbinical courts are limited in their power.
Outside of Israel, Jewish women who request a divorce are left in a vulnerable position as they are lawfully married until their husbands grant them a get.
The amendment strengthens the power of Israeli law to force such individuals to comply with the decisions of Diaspora Rabbinical courts and attend divorce proceedings.
Chief Rabbi Pinchas Goldschmidt, President of the Conference of European Rabbis, said: "This is a huge step and we are incredibly proud that this idea has now been enshrined in law. It is my fervent prayer that the new law will pave the way to hope for women who seek to live their life free of the shackles of an unwanted and dysfunctional marriage.
"Get-refusal is a form of domestic violence and the global Jewish community must act to protect its women.
"Israel is the only country whose Rabbinical courts have the power to pressure recalcitrant husbands and the new law will ensure that all men, regardless of their citizenship, feel the force of disgust from the global Jewish community."
Joanne Greenaway, a lawer at London Beth Din, the largest Jewish court in Britain, told the JC: "We hugely welcome this decision which Dayan Gelley has been instrumental in securing as Chair of the Standing Committee of the Conference of European Rabbis.
"We often work with the Israeli authorities to take advantage of their jurisdiction in relation to Get refusers travelling to Israel.
"They are able to summons a Get refuser to the Beth Din to give the Get and prevent them from leaving the country until they have done so. This is one of a number of strategies we employ to help in difficult cases of Get refusal.
"However, until now this has been complicated by the need to prove a clear link between the Get refuser and the State of Israel. Thankfully this is no longer required and we hope this will enable us to resolve some of our most difficult cases."